Change is coming, but too many organisations are holding back
Comment
03 Sep 2020
by Dame Judith Hackitt
Too many organisations continue to hold back from making the building safety changes they know they need to make until they have to, writes Dame Judith Hackitt
Sharelines
---
Change is coming, but too many organisations are holding back on building safety, writes Dame Judith Hackitt for @housingmagazine #UKhousing #SocialHousingFinance
---
Too many organisations continue to hold back from making the building safety changes they know they need to make until they have to, writes Dame Judith Hackitt #UKhousing #SocialHousingFinance
---
I have spent my working life as a chemical engineer managing and operating high hazard manufacturing facilities where safety was paramount, followed by almost a decade as chair of the Health and Safety Executive. The importance of managing risk and ensuring the safety of people has always been embedded in my work.
I have, along with everyone else, witnessed tragedies such as Piper Alpha (1988), Hillsborough (1989) and the Columbia Space Shuttle (2003), and we have learned hard lessons from these terrible events. We need to know what went wrong and who was to blame – and it often takes a very long time for those answers to emerge.
The fire at Grenfell Tower in 2017 shocked us all. It was clear that a public inquiry would need to take place to understand exactly what had happened and why, and who was responsible.
But in the weeks after the incident, early investigations revealed that there were many other high-rise residential buildings where there was a significant fire risk, with problems not only emerging with cladding materials but also with fire doors, fire-stopping and poor maintenance of safety facilities. This was what prompted Sajid Javid, communities secretary at the time, to ask me if I would conduct an independent review into building regulations and fire safety in high-rise buildings to understand what had gone wrong with the system and make urgent recommendations to improve safety. I accepted the role immediately.
---
---
I was particularly persuaded by the fact that the secretary of state wanted the review done in less than a year – an early response way in advance of the Grenfell Tower Inquiry, looking closely at the system of regulation and understanding how it had failed to ensure the safety of residents in high-rise buildings across the country.
We started in early August 2017 and it was clear from the start that the outcome of the review must be to ensure that residents of high-rise buildings are safe and feel safe in their homes. In just under 10 months we:
Mapped the whole system to ensure that we had a good understanding of how it was supposed to work;
Very quickly learned that the system did not work as it should. Issues included a lack of clear ownership and responsibility, poor oversight of quality of work, changes being made to designs and plans but not recorded, and many more;
Spoke to residents and heard repeatedly of concerns raised and not listened to;
Made 53 recommendations for how the system must be changed, making clear that this was about culture change as well as regulation.
My interim and final reports made clear that the system of regulation was broken and not fit for purpose and that this lack of an effective regulatory framework had allowed poor practices not just to creep in but to become commonplace and to go unchecked.
Since 2017, much of the focus of attention has been on the remediation of unsafe cladding on buildings, and rightly so. But it would be a huge mistake to assume that if all the unsafe cladding is removed, all the problems will have been fixed. They will not. Cladding remediation is the highest priority, but not the only priority.
The government has accepted the recommendations of my review in full and we are now well advanced with a series of regulatory changes to deliver the new regime. January 2020 saw the announcement that the new Building Safety Regulator will be set up as part of the Health and Safety Executive and most recently we saw the publication of the draft Building Safety Bill in late July.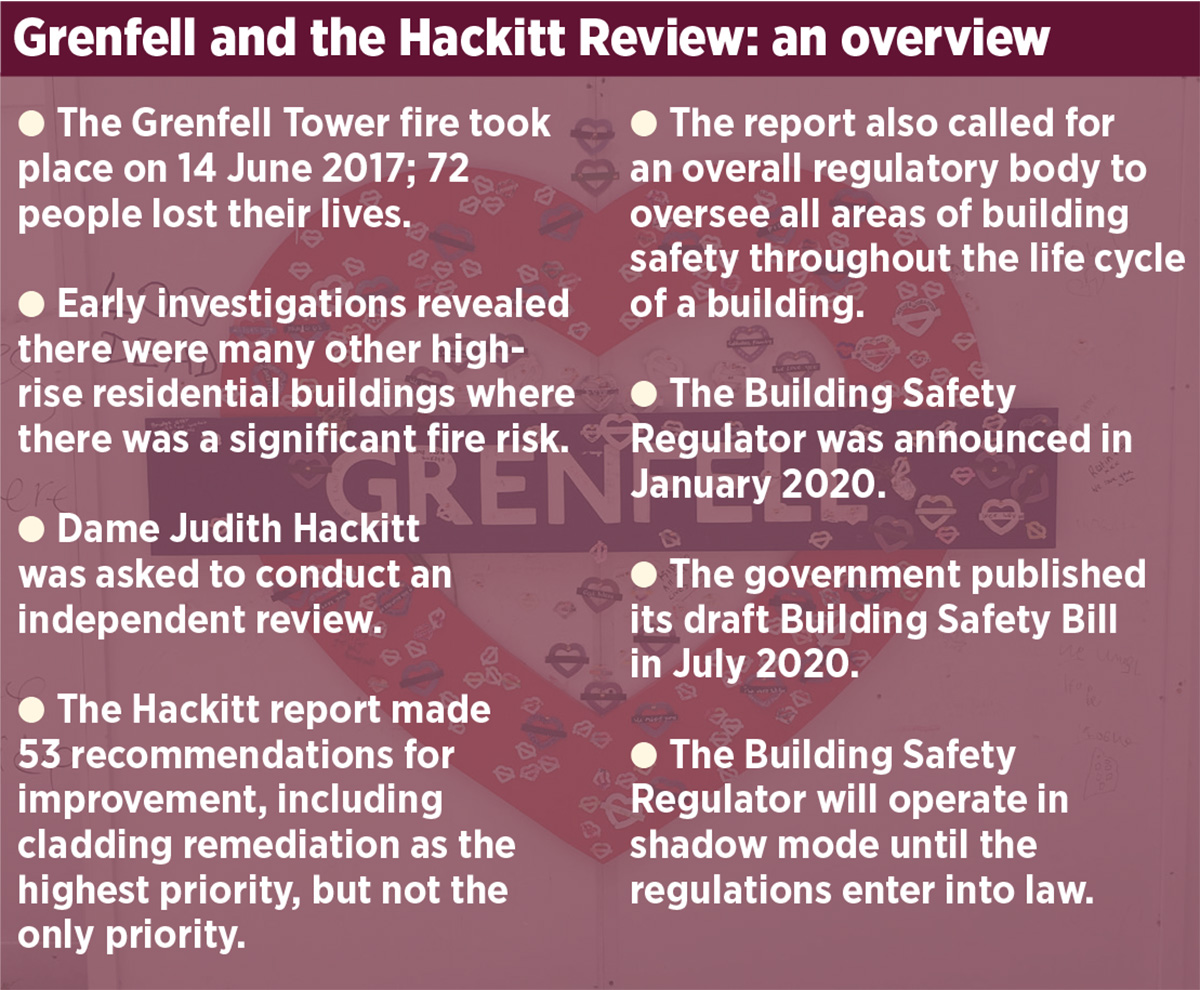 There is no doubt that change is coming and that the new regime will be effectively overseen and enforced by a tougher, stronger regulator leading to greater confidence, a stronger voice and reassurance for residents. I now chair the Transition Board, which will ensure that the new regulator is established as quickly as possible, and we are looking to have it operating in 'shadow mode' ahead of the regulations entering into law.
Change on the scale that we are determined to deliver here takes time and that is a source of frustration for everyone – especially for residents who want to see action now.
This is why, in parallel with the work on drafting the new legislation, a huge amount of effort has been put into driving the much-needed culture change across the whole of the sector.
For the past two years I have chaired the Industry Safety Steering Group (ISSG) and we have persistently challenged leaders across all parts of the sector – architects, construction companies, landlords, housing associations, insurance companies and many more – to tell us what they are doing ahead of legislation to ensure safer buildings for residents. We have recently published our second annual report on the progress we have seen.
We have encountered some excellent examples of organisations that are leading the way in stepping up and taking responsibility without waiting for legislation to tell them what to do. They are the responsible ones and the smart ones who are preparing for what is coming and who recognise their moral responsibility to deliver safer homes for everyone.
But we've also highlighted in our report that there are too many organisations that continue to hold back from making the changes they know they need to make until they have to. But the ISSG will continue to press for early action and stronger leadership and seek to find ways to identify the leaders from the laggards so that we can support the new regulator to hit the ground running.
Dame Judith Hackitt, chair, Building Safety Regulator transition board; chair, ISSG; and former chair, Independent Review of Building Regulations and Fire Safety