A culture of openness is key to weathering 'the stormy present'
To tackle the consequences of the pandemic, a culture that is candid about the challenges ahead and realistic about what needs to be done is crucial, writes Ian Brennan of the Scottish Housing Regulator
Sharelines
---
A culture of openness is key to weathering 'the stormy present', writes Ian Brennan of @SHR_news #UKhousing #SocialHousingFinance
---
"To deal with the consequences of the pandemic, a culture that is candid about the challenges ahead and realistic about what needs to be done is crucial" – Ian Brennan of @SHR_news #UKhousing #SocialHousingFinance
---
Prior to the pandemic I visited the Lincoln Memorial in Washington DC. That pre-COVID-19 era seems to recede further in the mind with each passing day but, for now at least, my memories of that day remain vivid.
The Lincoln Memorial is one of those places for which a description will never suffice, it really has to be experienced. The statue of the 16th US president was originally intended to be 10ft tall. It was enlarged to 19ft to prevent it from being overwhelmed by the huge chamber within which it is housed. Carved in stone behind the giant statue is the complete text of Lincoln's second inauguration speech. I found my eye drawn to
this section.
"The dogmas of the quiet past are inadequate to the stormy present. The occasion is piled high with difficulty and we must rise with the occasion. As our case is new, so we must think anew and act anew."
As we contemplate our own stormy present, how might we seek to rise with the occasion and think anew?
Prior to COVID-19, we would not have said that our sector was short of challenges. So the chastening thought is that all of the issues that we had previously identified remain to be addressed. And they will now be played out against the backdrop of the most difficult economic circumstances in a generation. So the case for thinking anew and acting anew seems strong.
---
---
From the start of the lockdown it was clear that the changes would be profound. Our initial reaction at the Scottish Housing Regulator was to alter our way of working to focus on monitoring the impact of COVID-19 on landlords.
And we recognised the value of running closer to all of the organisations that we regulate in order to identify emerging issues and serious risks.
Five months on, we have been greatly encouraged by the open and co-operative way that landlords have engaged with us and the clear commitment of lenders and investors to resolve any issues which arise in a pragmatic manner.
And yet we are aware that more challenging days are likely to lie ahead both for ourselves and the organisations that we regulate. Where might those challenges lie? Here are just four that come to mind.
Homelessness: Kevin Stewart, Scotland's housing minister, has stressed the importance of dealing with the needs of people who are or may become homeless. Our latest survey of Scotland's landlords showed that more than 3,000 people presented to local authorities as homeless during the month of July and there were more than 14,000 households in temporary accommodation at the end of the month. So this will be a formidable challenge.


Sustainable finances: Good business planning has always been essential to deliver sustainable finances. As we emerge from the pandemic this will be more important than ever. All landlords should base their business plans and financial forecasts on the best and most up-to-date information available and on reasonable assumptions. And it is vital to monitor the environment and ensure that estimates and assumptions remain relevant.


Sustainable governance: All organisations will face new challenges in our increasingly uncertain world. So, in the future, sustainable governance – having the right skills and expertise at board level, backed by effective succession planning – will be a key characteristic of successful organisations.


Management of arrears: At times of economic stress we know there will be issues for tenants in paying rent as it falls due. And our monthly monitoring of arrears has shown a consistent increase in arrears since the start of COVID-19 (see graph). This may be exacerbated as the furlough scheme is wound down.
Across the world success will depend on new and hopefully better ways of doing things. This is captured in the phrase "build back better".
So what are the things we can do now to help to build back better?
In my experience organisational culture is a key determinant of success. To deal with the consequences of the pandemic, a culture that is candid about the challenges ahead and realistic about what needs to be done is crucial.
This means paying attention to sensitivity analysis, scenario planning and securing value for money. Balancing key objectives in relation to service provision, stock quality, regeneration, rent affordability and new development will be challenging but necessary.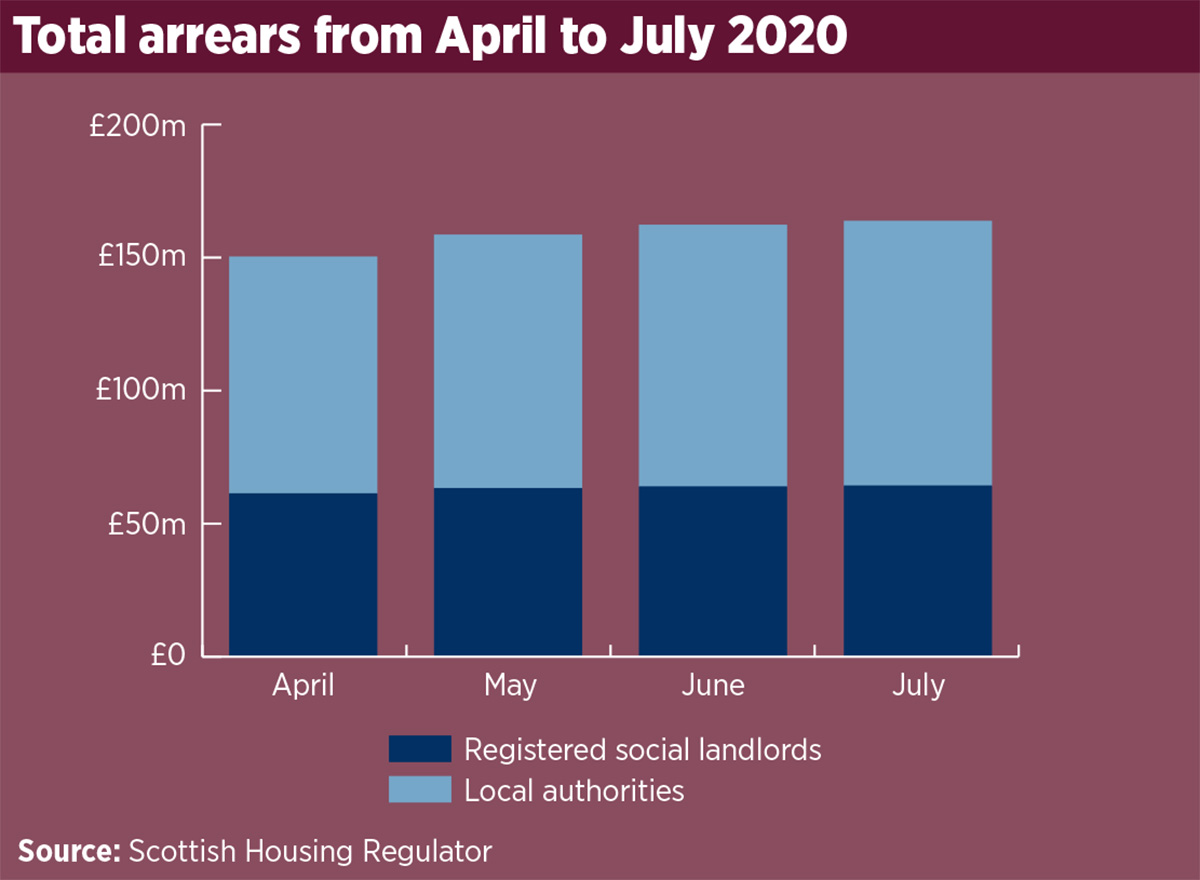 And it is important to learn lessons from the pandemic. These may be positive and negative and will influence the strategic vision and mission of the organisation. This will likely include greater use of digital ways of working, staff homeworking and closer contact with service users.
And, post-Grenfell and post-pandemic, the safety of tenants, residents and other stakeholders must remain a top priority. Current circumstances have made compliance with safety laws and regulations in some areas more challenging. We have advised landlords to note any non-compliance brought about by COVID-19 and to work to address this as soon as practicable.
Let's finish on a positive note. The social housing sector is arguably the most successful and enduring public-private partnership in the UK and possibly the world. It has blended public and private finance to the advantage of millions of citizens and social landlords. And, supported by effective regulation, social landlords have benefited from access to low-cost finance. Simply put, our sector has proven adept at solving problems as they have emerged.
This approach, coupled with a culture that emphasises candour and realism, offers the best chance for organisations and the sector as a whole to cope with the stormy present and create a successful
and sustainable future.
Ian Brennan director of regulation, Scottish Housing Regulator
Hear from Ian Brennan at the Social Housing Scottish Annual Conference on 15 September.